Best Year for Pontiac G6 – Which One Should You Buy?
General Motors produced year-wise Pontiac G6 models from 2005-2010. Each model came with some changes and enhancements which put an impact on the overall quality. Different years got different appreciations and accuse.  
There are years to be avoided but there is also the best year for Pontiac G6. Here I have selected 2007 and 2009 as the best Pontiac years as they have better qualities, similar virtues, and appreciable features. The analysis has been based on engine, mileage, safety, maintenance, technologies, etc.
Alongside the best years, I have extended the discussion to the best-used Pontiac G6 year. The justification of the whole article is the result of extensive research on the user-friendly features and beneficial facts. 
What to Look for in a Pontiac G6:
To have the best productivity from a G6, it is important to know about the things you should look for in this brand of car. 
Engine type and capacity:
When you think of buying a car, the significance of the engine comes first. Therefore, the capacity, category, and fuel efficiency in the engine of a Pontiac G6 car must be kept in focus. A better version of the engine will give smooth service.
Mileage:
Before buying a Pontiac G6 car, take a look at the average mileage coverage. As we want a car to last long, it is important to ensure the highest mileage of this car.
Steering system and wheel:
A car with improper steering and low-quality wheels will never give a good experience. Hence, you need to look for a solid power steering system and well-structured wheel in a Pontiac G6. 
Body style:
Pontiac comes with multiple body styles like a 2-door convertible, 2-door coupe, and 4-door sedan. Each comes with a distinctive look and space. So, you need to find out the right style to fulfill your requirements.
Safety benefits:
Using speedy transport like a car always carries the risk of collisions or accidents. So, proper safety benefits are another important thing to look for in a Pontiac G6 car.
Technologies:
A car is not just about the engine, wheel, or steering. Rather it should be a thing of comfort and pleasure. So, you should look for a Pontiac G6 car that has technological advancement, entertainment equipment, and smart feature.
Maintenance facts:
Different Pontiac models have more or less recalls and problematic issues. Therefore, maintenance cost is always a matter of concern. You need to look for a Pontiac G6 car with the least issues with light solutions.
Best Year for Pontiac G6:
2007 and 2009 Pontiac G6: There is some distinctive advancement in these two years but both editions have similar positive features. The following discussions are formed through the evaluations of similarities and individual specialties.
Enhancements of the engines:
The G6 model of 2006 required more adjustments and enhancements in the Engine. Therefore, the 2007 Pontiac G6 year was produced with VVT on its 3.5 L V6. This engine can generate more horsepower and increase stability.
The 2009 Pontiac G6 model added 2.4 L four-cylinder engines and a 6-speed transmission system. This new addition enhanced the capacity of the engine. The horsepower got more stable and effective.
Increased MPG:
The 2007 and 2009 model years have a legacy of better fuel capacity which increased the rate of MPG in cities, highways, and random uses. 
Installed entertainment features: 
One of the best facts about the 2007 and 2009 years is the inclusion of several entertainment options. They have AM or FM stereo system with 6 total versions of speakers. 
Besides, there are audio input systems, Bluetooth technology mainly in the 2009 model, and Satellite radio with 3 months of pre-satellite radio service. Radio data system, adjustable speed sensitive volume control, and element antenna are also available. 
Similar safety features in 2007 and 2009 models:
Post-collision safety system is available with dual front side-mounted airbags. 
There are also front and rear head airbags to prevent serious injuries.
This model has a passenger airbag occupant sensing deactivation system.
Traction control and child seat anchor with rear door child safety locks are instilled in it.
4-wheel ABS and Ventilated front disc or solid rear disc brakes increase safety.
There are options for electronic brake force distribution and dusk-sensing headlamps.
Auto delay off headlamps and daytime running lights are very beneficial. 
2 front and rear headrests are its standard parts.
There are 3-point belts with a front seatbelt sensor for extra safety.
Emergency interior trunk release and Engine immobilizer help prevent crises.
The common features of comforts and convenience in 2007 and 2009 Pontiac G6:
There is a tilt-adjustable steering wheel which increases the comfort of control. 
The option of electric speed-proportional power steering is available.
The inclusion of front and rear cupholders makes the ride great.
Front door pockets and front seatback storage are very useful.
There are also attachments of remote trunk release, cargo net, retained accessory power, Single zone front air conditioning, rear floor mats, and front reading lights. 
Modern instrumentation in 2007 and 2009 models:
2007: This model is installed with single-touch power windows with remote keyless power door locks. Power and heated mirrors are also available. There are instruments like a tachometer, clock, and Low fuel level warning.
2009: There are trip computers, external temperature display, tachometer, clock, and Low fuel level warning. Besides, this model has one-touch power windows, power door locks, power mirrors, and heated mirrors.
Best Year for Used Pontiac G6:
If you are thinking of buying a used Pontiac model, you must ensure the highest productivity of that car. Comparatively, 2009 has several significant facts to be called the best year for the used Pontiac G6. 
Used 2009 Pontiac G6: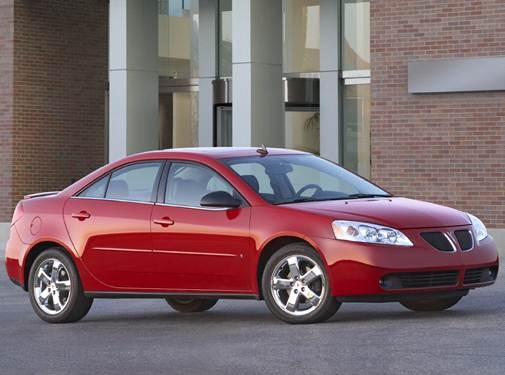 Updated engine and technical modifications:
Taking the flaws and lacking into concern, General Motors updated the engine and modified the technologies in the 2009 G6 model which makes it as suitable as used Pontiac G6.  Especially, the modifications made in the 2009.5 version, improved the credibility of this car.
Latest technological implementation:
After a series of reproduction, changes, and modifications in the models from 2005-2008, the Pontiac G6 model car of 2009 was installed with more technologies than we can see in other editions.  So, this used model car is more comfortable and convenient to use.
Less problematic issues:
Apart from common Pontiac issues like faults in lights, locks, and power steering, the 2009 has comparatively fewer problems than other models. Therefore, many used opine to buy a used 2009 G6 car. 
Durability:
Pontiac G6 model car of 2009 is a revised division with minimum flaws. The manufacturer renovated the model with quality wheels, steering, hinges, and other parts. Therefore, the car can give simultaneous service for more years which makes it ideal as a used model year.
Extended Fuel efficiency:
When you look for buying a used Pontiac G6 car, you must emphasize the level of fuel efficiency. The 2009 models are renovated to ensure greater productivity of its fuel. Therefore,  the expenditure remains quite under control.
Less Maintenance and repair cost:
As this brand had been reported for the least possible problems, the maintenance and repair cost is less than other used Pontiac G6 models. Therefore, the car gives hassle-free service economically and technically. 
Better crash safety rate:
NHTSA provides modest safety rates for overall front and rollover crash possibilities. Besides, the side crash probability is rated with a 5-star safety rating. These ratings prove the level of customer satisfaction regarding the model.
Availability of parts:
Being a part of the last but latest Pontiac G6 editions, different parts of the 2009 model year are more available than others. So, you will not face much crisis if you look for any change or replacement of technical parts in the car.
How many miles can a Pontiac G6 last?
A well-maintained it can last to a maximum of 270000-280000 miles. On average, the models of these G6 cars are expected to serve for around 10 to 15 years covering almost 15000-18000 miles per year. The mileage coverage can vary from one Pontiac G6 year to another. 
Conclusion – Is the Pontiac G6 a good car?
In the article "the best year for Pontiac G6" I have placed the 2007 and 2009 years as the best editions. The information has been set focusing on the value and outcomes we usually seek from a modest car. The discussion part will help you decide if you want to have a used model.
Each Pontiac G6 model was reported to have random problems and GM reproduced the legacy of model years with possible solutions and betterment. Though the brand was discontinued, it has some of the best years and several good qualities in all editions. On average, Pontiac G6 is a good car to own.
Resource: